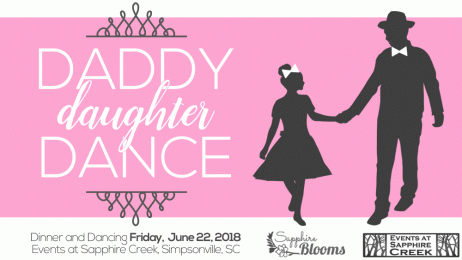 The 2018 Daddy Daughter Dance is on Friday, June 22! It's a sweet party with dinner, dancing, flowers, and fun, designed for Daddies and Daughters to get all gussied up and have a ball!
Update: The Best Dressed Dad and Daughter and the champion of the Daddy/Daughter Dance Competition will each win $100 AND a pair of tickets to Carowinds!!
WHEN: Friday, June 22, from 6:30pm-9:30pm
WHERE: Events at Sapphire Creek (401 North Main Street, Simpsonville, SC 29681) – for questions about the venue call 864.238.9392 or visit eventsatsapphirecreek.com
WHO: Daddies and their Daughters (all ages are welcome, as well as any father figures, moms, sons, grandparents, etc.!)
You can pre-order flowers in your choice of colors from Sapphire Blooms (you can pre-order here)! Daddy Boutonnieres are $16, Daughter Corsages are $26; all proceeds benefit A Child's Haven!
Daddy Daughter Dance Menu:
Slow Braised Short Rib Sliders with White American Cheese, served with A1 sauce and Aioli
House-made Chicken Salad on Buttery Croissants
Fresh Veggie and Fruit Display, served with Veggie Dip and Assorted Crackers
Assortment of Mini Delectable Desserts
Assortment of Beverages
A cash bar will available; please arrange for transportation if you're planning to drink, and drink responsibly.
The 2018 Daddy Daughter Dance is brought to you by Events at Sapphire Creek and Sapphire Blooms!
We are looking forward to seeing you there!